ICP is proud to announce the recipients of its 2020 Awards
Fukuhara Award for Advanced International Research and Service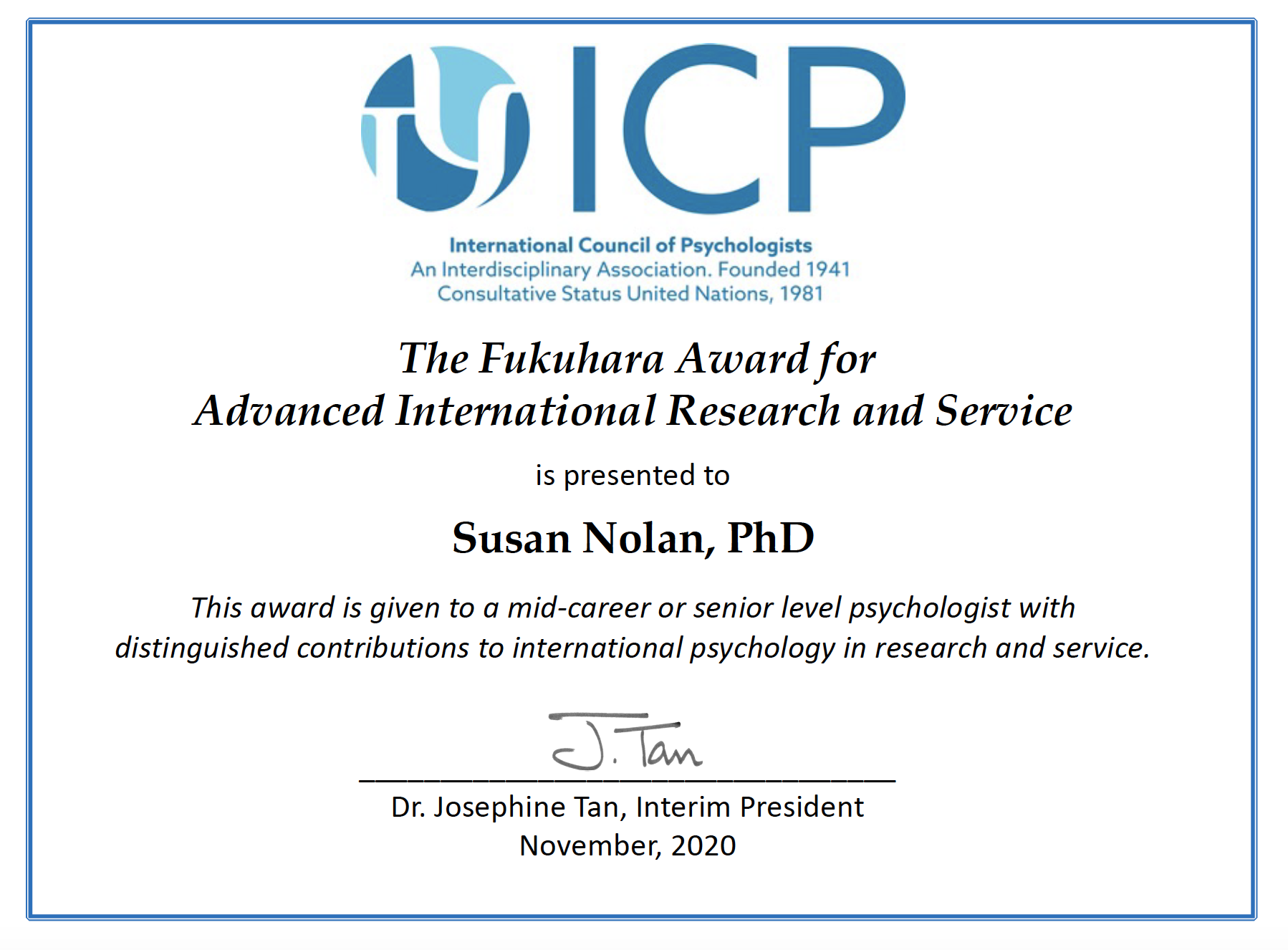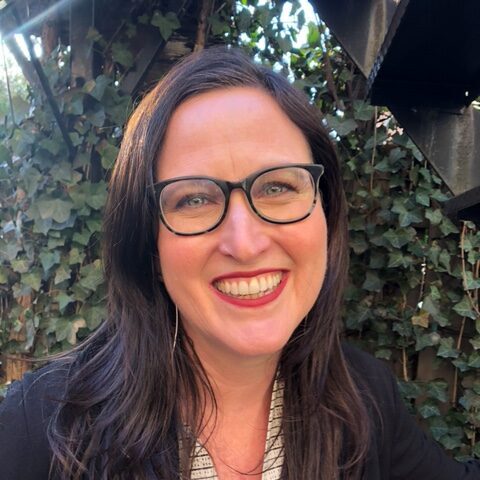 Susan A. Nolan is a Professor in the Department of Psychology at Seton Hall University (New Jersey, USA) where she developed a course in International Psychology. She received her Ph.D. from Northwestern University (Illinois, USA), and studies the stigma associated with psychological disorders and the role of gender in science, technology, engineering, and mathematics (STEM) education, the latter funded in part by the National Science Foundation. Susan has published more than 40 journal articles, books, and book chapters, and has given more than 200 presentations; she is a coauthor of introductory psychology and statistics textbooks. She recently co-edited a book on assessment in higher education and guest edited a special issue on open science for the journal Psychology Learning and Teaching (PLAT), both with international contributors.
Susan is the 2021 President of the Society for the Teaching of Psychology, an Associate Editor of PLAT, and a Consulting Editor of the APA journal Scholarship of Teaching and Learning in Psychology. She previously served as President of the Eastern Psychological Association (EPA), Treasurer of APA's Division 52 (International Psychology), and a representative from the American Psychological Association (APA) to the United Nations. Susan is a Fellow of EPA, APA, and the Association for Psychological Science, and was a 2015-2016 U.S. Fulbright Scholar in Bosnia and Herzegovina where she researched psychology higher education.
Denmark-Gunvald Award for Feminist Research and Service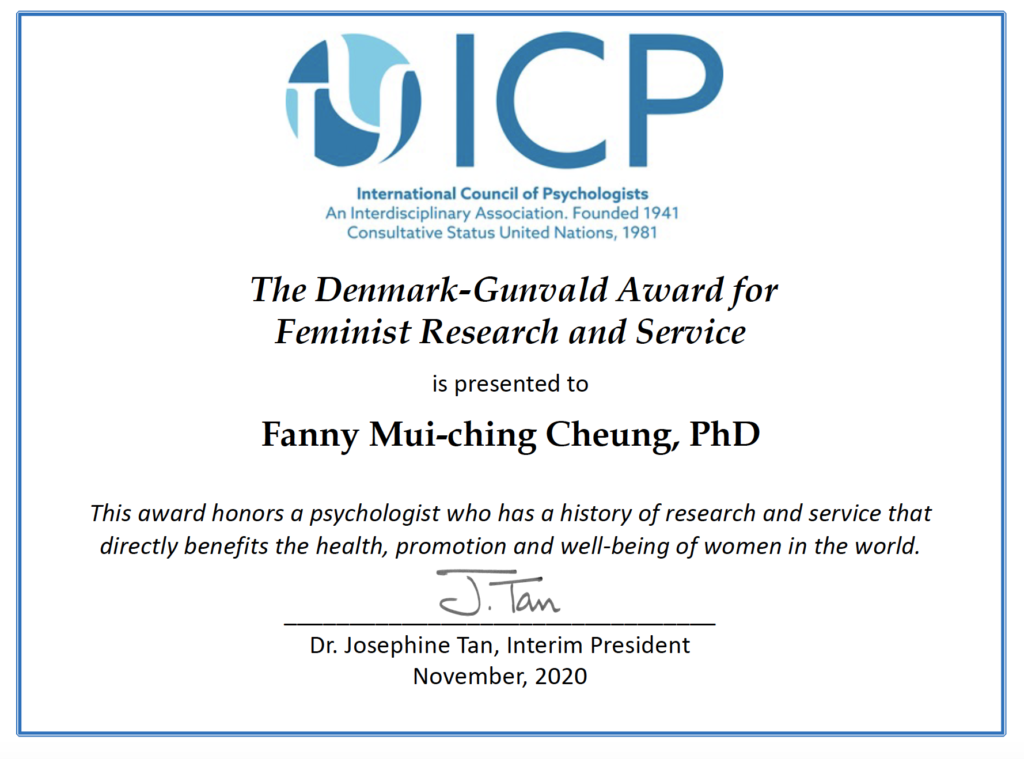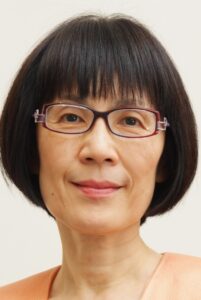 Professor Fanny Cheung is currently Senior Advisor to the Faculty of Social Science and the Hong Kong Institute of Asia-Pacific Studies and Emeritus Professor at The Chinese University of Hong Kong. She is formerly Pro-Vice-Chancellor (PVC)/Vice-President for Research, Choh-Ming Li Professor of Psychology and Co-Director of the Hong Kong Institute of Asia-Pacific Studies. Fanny established the first Gender Research Centre in Hong Kong and Greater China in 1985 and the Gender Studies Program in 1997 at CUHK.
Dr. Cheung obtained her bachelor's degree in Psychology from the University of California, Berkeley, and PhD in Psychology from the University of Minnesota. Her research expertise lies in cross-cultural personality assessment, psychopathology, gender equality and women leadership with over 200 international refereed publications. Her latest book is the Cambridge Handbook of the International Psychology of Women co-edited with Diane Halpern in 2020.
Dr. Cheung is highly regarded as a pioneer in gender equality in Asia. She was appointed the Founding Chairperson of the Equal Opportunities Commission in Hong Kong in 1996-99, and served as a special delegate to the National Congress of Chinese Women from 1994 to 2017. Her academic honors and awards include: Elected Fellow (10-Social and Economic Sciences), The World Academy of Science in 2018; the International Association of Applied Psychology (IAAP) Distinguished Scientific Contribution Award 2014; and American Psychological Association (APA) Award for Distinguished Contributions to the International Advancement of Psychology 2012.
Frances Mulllen Distinguished Contribution to International Psychology Award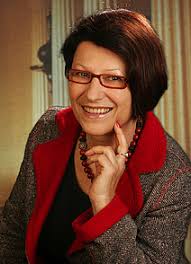 Prof. Dr. Roswith Roth graduated 1980 from the University of Graz (Austria) with a Ph.D., Major psychology, Minor education. In 1993 she received her postdoctoral degree (Habilitation in Psychology) and was promoted to University Associate Professor of Psychology at the Institute of Psychology at the University of Graz. 2004 she was awarded University professor by the Federal President of Austria. She holds licenses in Clinical and Health Psychology and Psychotherapy (Rogerian and Behavior Therapy). Between 2000 and 2009 she was chair of the Health and Gender section at the Institute of Psychology and from 1993 to 1999 chair of the Interuniversity Coordination Center for Women Studies dealing with women issues at the University of Graz, the Technical University of Graz and the Medical University of Graz. Between 1994 and 2006 she was chair of the Committee on Equal Treatment at the University of Graz and from 2003 to 2006 chair of the ARGE Universitaetsfrauen (Consortium of University Women in Austria). In these roles she attended and observed the amendments of the University laws. She was also one of the initiators of lecture series dealing with women and gender at all faculties at the university and accompanied and supervised a carrier program the university provided for young female scientists.
Since 1994 she is representative of the International Council of Psychologists (ICP) at the UN in Vienna. At the UN she was chair of the Committee on the Family from 2010-2012, and since 2012 member in the Committee on the Status of Women, in 2001 she served as president of ICP. 1999 she has been a visiting professor at the University of Arkansas at Little Rock in gender issues, 2003 Erasmus teacher in women issues at the University of Padua, Italy, and 2005 visiting professor at Hiroshima University, Japan, Faculty of Education. As chair of the Curricula Committee she introduced psychology of gender as compulsory lecture in the curriculum, she gave this lecture until her retirement from the University of Graz. Her gender lecture was translated into Albanian and edited as textbook in Albania. She is staff at the Interuniversity College for Health and Education in Seggau, Styria and is supervising doctoral students at the University and the Interuniversity College in Seggau.
Dr. Roth's research topics comprise several areas in health and gender combining behavior medicine and psychology, focusing on female health, eating disorders, chronic diseases, physiotherapy and ethics in these areas. One of her EU projects EQUOTE dealt with Gender Equality in Training and Employment for Health Professions. She is involved in several international diabetes projects (e.g. TEDDY, BABYDIAB, BABY-DIET) and Ethics in Physiotherapy International, investigating ethics in the basic education and training of physiotherapists. She edited 10 Proceedings of the Annual Conventions of ICP and three in women's health areas, homosexuality and diabetes and her publications in international journals cover her other research areas. Her scientific research led to several awards: the Grand Medal of the Governor of Styria for her research accomplishments, the Best Science Award of the 7th Scientific Forum of Austrian Applied Universities, the Kaethe Leichter Award of the National Bank of Austria for women's Issues and the Francis Mullen Award for Distinguished Contributions to International Psychology.
Seisoh Sukemune/Bruce Bain Encouragement of Early Career Research Award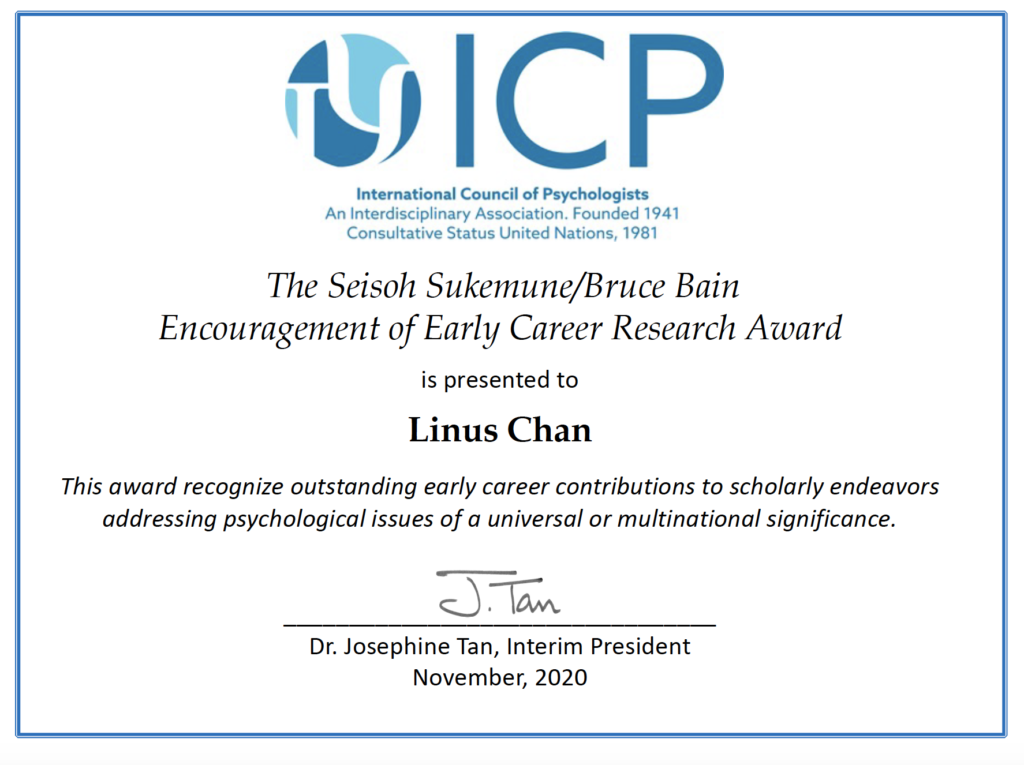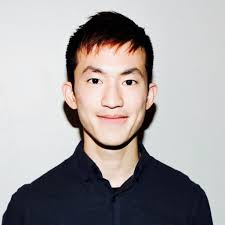 Linus Chan is a Ph.D. candidate at the University of Montana in the Social/Political Psychology program. His primary research interests revolve around cross-cultural psychology, political psychology, and cyberpsychology. His work has examined such topics as how a government's autocracy/democracy influences its ties to culture, how the influence of one's family and friends is moderated by individualism/collectivism, how conscription decreases patriotism, the influence of socioecological stressors on political beliefs, and how impression management drives behaviors on social media. He is an author of over a dozen articles, commentaries, and book chapters in these areas.
In addition to winning the ICP Sukemune-Bain early career research award, he was a recipient of the Society for Personality and Social Psychology's Diversity Fund Graduate Travel Award and the University of Montana's Bertha Morton Scholarship.
ICP2020- Virtual / Student Poster and Lightning Talk Awards
ICP2020- Virtual / Outstanding Student Lightning Talks (Audience Choice)
Daniel Balva & Jose Luis Tapia-Fuselier
The Response to COVID-19: The Impact on Disability Communities Across the World
Olivia Mounet
Ethnic Cleansing of the Uyghur: Human Rights Violations in the Xinjiang Province/East Turkestan
Shenae Osborn
The Unseen Abuses
Godhuli Bhattacharya
Julissa Fonseca-Medina
Yunung Lee
Christie Park
Janine Ray
Nicole Serrano
ICP2020- Virtual / Outstanding Student Poster Awards
Yunung Lee
The Contemporary Psychological History of Social Minorities in Taiwan
Janine Ray
Indicators of Infant Wellness Predict Estimated Rates of Modern SlaveryFiona Cunningham
Maternal Health Indicators Predict Estimated Rates of Modern Slavery
Fanie Collardeau
Lukas Wallrich