Join the International Council of Psychologists for two days of discussion, networking, sharing and learning.
Human Rights, Dignity & Justice: Empowerment for All
Friday December 1, 2023 & Saturday, December 2, 2023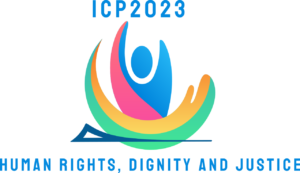 CALL FOR ABSTRACT SUBMISSIONS
Abstract Submission Deadline July 1, 2023
Participants are invited to submit abstract proposals including but not limited to the following topics, with an emphasis on the conference theme: Empowerment for All
Addressing the needs of Refugees and Migrants
Addressing Gender-Based Violence through Psychological Science
Climate Change and Climate Justice
Culture and Acculturation
Decolonization and Indigenization
Education for all
Health and Mental Health
Leadership and Governance
Socio-Economic Justice
Proposals may be for:
Panel Discussions (proposal must include at least 3 different presenters, 8 minute introductory remarks each)
Papers (8 minute presentation) – will be grouped into thematic panels
Posters (Written poster for presentation and 90 second oral description)
Each proposal/submission must be related to one or more of the conference topics
***ABSTRACT SUBMISSION INSTRUCTIONS ***
Panel Sessions/Papers: Talks will be 8-minute pre-recorded presentations grouped in thematic panels based on the topic areas, followed by interactive discussion within the panel and with the audience.
Posters will be displayed online throughout the conference, and presented live in interactive sessions set up for individual and group discussion (ZOOM Rooms) for each poster.
Presentations with student first authors will be eligible for presentation awards
and require faculty confirmation.
HOW TO SUBMIT YOUR ABSTRACT
https://icpweb.org/icp-annual-conference/icp2022/instructions-abstracts/
The conference official language is ENGLISH. All Abstracts, Final Papers and Presentations must be in English.
This conference has defined a maximum limit of 4 submissions per author (including co-authored proposals),
Important Dates
Submission deadlines
July 1, 2023 for Panel, Paper, and Poster abstracts
Deadline for uploading completed Posters/Talks – November 1, 2023 (all presenters must also be registered)
Opening Session – December 1, 2023