ICP Webinars are free and open to all, but registration is required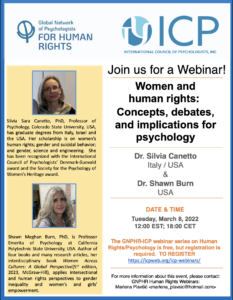 Women and Human Rights: Definitions, Debates, and Implications for Psychology
Presenters: Shawn M. Burn, USA; Silvia Canetto, Italy/USA
Moderators: Marlena Pavšić, Croatia; Andrew Simon, USA
Date of Presentation March 8, 2022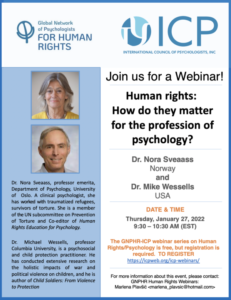 Human Rights: How are they Important for the Profession of Psychology?
Presenters: Nora Sveaass, Norway; Mike Wessells, USA
Moderators: Marlena Pavšić, Croatia; Andrew Simon, USA
Date of Presentation January 27, 2022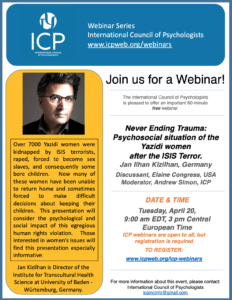 Never Ending Trauma: Psychosocial situation of the Yazidi women after the ISIS Terror
Presenter: Jan Ilhan Kizilhan, Germany
Discussant, Elaine Congress, USA; Moderator, Andrew Simon, ICP
Date of Presentation ;April 20, 2021
Over 7000 Yazidi women were kidnapped by ISIS terrorists, raped, forced to become sex slaves, and consequently some bore children.   Now many of these women have been unable to return home and sometimes forced to make difficult decisions about keeping their children.  This presentation will consider the psychological and social impact of this egregious human rights violation.   Those interested in women's issues will find this presentation especially informative.
Jan Kizilhan is a psychologist and Director of the  Institute for Transcultural Health Science at University of Baden – Würtemburg, Germany.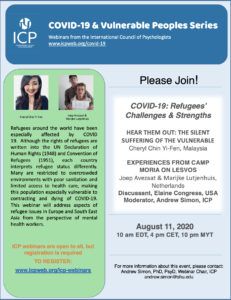 ICP Series COVID-19 and Vulnerable People – 

Session 2: COVID-19 and Refugees

Presenters: Joep Avezaat & Marijke Luitjenhuis (Netherlands) and Cheryl Chin Yi-Fen (Malaysia)
Date of Broadcast: August, 2020

Refugees around the world have been especially affected by COVID 19. Although the rights of refugees are written into the UN Declaration of Human Rights (1948) and Convention of Refugees (1951), each country interprets refugee status differently. Many are restricted to overcrowded environments with poor sanitation and limited access to health care, making this population especially vulnerable to contracting and dying of COVID-19. This webinar will address aspects of refugee issues in Europe and South East Asia from the perspective of mental health workers.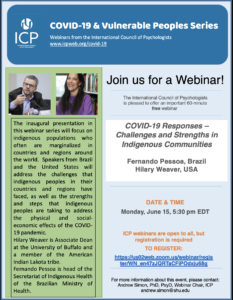 ICP Series: COVID-19 and Vulnerable Peoples –

Session 1: COVID-19 and Indigenous Peoples

Presenters: Dr. Fernando Pessoa Albuquerque (Brazil) and Dr. Hilary Weaver (USA)
Date of Broadcast: June, 2020

The inaugural presentation of the ICP COVID-19 and Vulnerable Peoples Webinar Series focuses on indigenous populations, who are often marginalized in countries and regions around the world. Speakers from Brazil and the United States address the challenges that indigenous peoples in their countries and regions have faced, as well as the strengths and steps that indigenous peoples are taking to address the physical and socio-economic effects of the COVID-19 pandemic.  Dr. Pessoa is head of the Secretariat for Indigenous Health of the Brazilian Ministry of Health; Dr. Hilary Weaver is Associat4e Dean at the University of Buffalo and a member of the American Indian Lakota tribe.
Conversations on Rational Emotive Behavior Therapy (REBT) in the time of COVID – 3 sessions
Presenter: Dr. Debbie Joffe Ellis
Date of Broadcast: April & May, 2020
Dr. Debbie Joffe Ellis – wife of Albert Ellis (the pioneer of Rational Emotive Behavior Therapy, REBT), Professor at Columbia University and leading world authority on REBT, provides guidance for coping with the COVID-19 pandemic,. In this series Dr. Ellis offers an overview of REBT, addresses the immediate challenges affecting people around the world, and offers comment and personal experience on how REBT can help better navigate through the pandemic. This is a 3-part series. More on Dr. Ellis can be found at DebbieJoffeEllis.com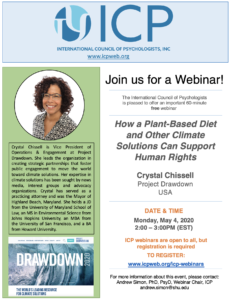 How a Plant-Based Diet and Other Climate Solutions can Support Human Rights
Presenter: Crystal Chissell, Project Drawdown
Date of Broadcast: May, 2020
Project Drawdown is a global, scientific initiative. Its mission is to help the world reach "Drawdown" – the point in the future when levels of greenhouse gases in the atmosphere stop climbing and start to steadily decline, thereby stopping catastrophic climate change – as quickly, safely and equitably as possible. This webinar describes Project Drawdown and points out how altering some human behaviors may contribute to a better climate future and promote human rights.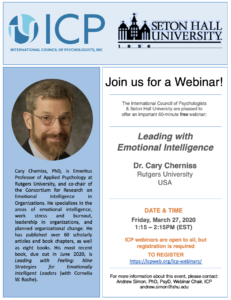 Leading with Emotional Intelligence
Presenter: Dr. Cary Cherniss, Rutgrs University
Date of Broadcast: March, 2020
This webinar will help participants learn (1) What emotional intelligence is; (2) Some of the research evidence suggesting a link between emotional intelligence and leadership; (3) How outstanding leaders use emotional intelligence to deal with critical challenges and opportunities.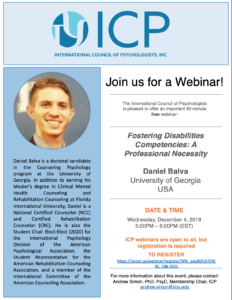 Fostering Disability Competencies: A Professional Necessity
Presenter: Daniel Balva, University of Georgia
Date of Broadcast: December, 2019
Our responsibility as psychologists and helping professionals is to ensure the highest level of care to clients. As such, it is vital that we aim to increase clinical compete4ncies by learning more about persons with disabilities.
Growing up in To Worlds: Young Chinese Americans in New York City
Presenter: Dr. Uew Gielen
Date of Broadcast: September, 2019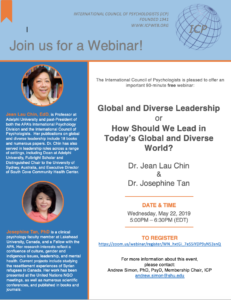 Global and Diverse Leadership: How Should We Lead in Today's Global and Diverse World?
Presenters: Dr. Jean Lau Chin and Dr. Josephine Tan
Date of Broadcast: May, 2019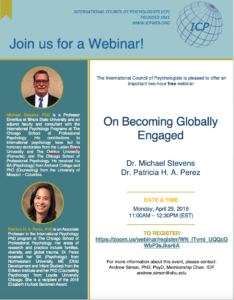 On Becoming Globally Engaged
Presenters: Dr. Michael Stevens and Dr. Patricia Perez
Date of Broadcast: April, 2019
Not Available for Online Viewing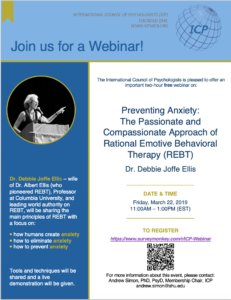 Preventing Anxiety: The Passionate and Compassionate Approach of Rational Emotive Behavioral Therapy (REBT)
Presenter: Dr. Debbie Joffe Ellis
Date of Broadcast: March, 2019
View Online