Summer, 2021 – Volume 61, Issue 1
Editor, Ada Sinacore, Canada
Greetings from the Board
Message from the President Josephine Tan
Message from the Board
Honoring Florence Denmark
Saluting Florence Denmark at 90
ICP at Florence Denmark's 90th Birthday Celebration
Human Rights go Local: What Works
Global Mental Health Collaboration
New ICP Special Interest Group
Student Award Winners
Daniel Balva
Yunung Lee
Shenae Osborn
Special Interest Article
The Mixed Method for Pattern Emergence (MMPE) in Future Psychology
ICP Virtual Conference 2021
Message from the President
As we head into the middle of 2021, I hope that you and your loved ones are keeping safe and healthy.  With medical research making continual progress, management of the COVID-19 pandemic looks more promising, even more so when individuals adhere to the public health policy in their countries.
Being under near constant pandemic lockdown for more than a year now has given me much time to reflect.  The ICP continues to be very active using distance technology.  I recognize that much of what we know and what we do within our organization comes from learning from those who came before us.  They have created and built the ICP, and it is up to us and future generations to ensure that the organization remains robust, sustainable, and flexible to meet contemporary and emerging issues.
The ICP has evolved over the many decades of its existence to meet the challenges and issues within society.  It began in 1941 in the United States to as the National Council of Women Psychologists to provide a way for women psychologists to contribute to the war effort and then subsequently, more broadly, to address the many sexist barriers that women psychologists were facing in their careers during that era.  It underwent a name change to become the ICP in 1959 to reflect more accurately its mission, activities and membership that was becoming more diverse and international.  In 1981, it gained non-governmental consultative status to the United Nations Economic and Social Council.
What does the ICP look like today? Building on its roots, the ICP offers a venue for psychologists and students to network on intersectional issues in psychology for the betterment of humankind and the future.  Our members come from many different countries, and are educators, researchers, professionals, students, advocates and activists.  What binds us is our interest in human rights, justice, dignity, international understanding, and world peace.  We come together at annual and regional meetings to learn and share knowledge, and build important connections and meaningful relationships.  Our webinar series regularly bring in presenters from different parts of the world who bring attention to contemporary issues of international relevance.  The ICP newsletter puts a spotlight on the activities carried out by the organization and its members.  Our representatives at the United Nations help us keep current on issues and opportunities of global importance that are relevant to psychology.
The Global Network of Psychologists for Human Rights (http://humanrightspsychology.org/), which the ICP co-founded with the Human Rights Board of the European Federation of Psychological Associations, is a forum offering resources, discussion and action for anyone with an interest in psychology and human rights.  The ICP is part of the Global Psychology Alliance which is composed of 60+ psychology associations across the world and that works to strengthen the role of psychology in addressing global societal issues.  We are also affiliated with the International Union of Psychological Science (IUPsyS), and are a member of the World Federation for Mental Health.
Our contemporary world is filled with widespread strife, as well as political and social instability that is compounded by the COVID-19 pandemic.   The contributions that psychology can make towards the building of a more resilient and better world and future is never more evident.  The theme of our ICP2021 virtual meeting (https://icpweb.org/icp-annual-conference/icp2021-virtual/) that is scheduled for 22-24 October is Psychology in Action: Promoting Equity and Justice in an Age of Uncertainty; its four subthemes are health equity, climate justice, disability justice, and decolonizing psychology.  We have lined up exciting and engaging invited speakers for the conference.  You will be able to present your work in poster and lighting talk sessions, and outstanding student work will be celebrated with prizes.  There will be interactive Meet and Greets and Networking Cafés where you can socialize and discuss with other conference attendees from different parts of the world.
The ICP is also working on Board strategic planning for activities over the next few years.  This will help us to identify priorities and develop plans to achieve objectives that will enable us to remain a useful voice for psychology in the service of the global community.
I would like to add a personal note.  Being in zoom meetings regularly has led to my coming to know many of the ICP Board members better.  I truly appreciate their dedicated work to the organization.  I have very often heard that ICP members develop meaningful relationships that last a lifetime, and I can see why.  The ICP is a great place not only for your work and career, but also a place to develop international friendships which the world very much needs during this time of uncertainty.  So, I invite you to please contact us at  icpincinfo@gmail.com if you would like to be more involved with the organization.
As well, do keep an eye out for our communications to you on the listserve and the newsletter.  We will be putting out a call very shortly for reviewers for the ICP2021 submissions, if we have already not done so by the time you read my message.  I hope you will respond and join us in making this year's conference as successful, if not more successful than the previous one.  Don't forget to register for the ICP2021.  Check us out at https://icpweb.org/icp-annual-conference/icp2021-virtual/.  Our Conference Planning and Organizing Committee is looking forward to welcoming you at the ICP2021 Virtual Meeting!
Josephine C. H. Tan (Canada)
President
Report from the Board of Directors
Merry Bullock, ICP Secretariat
The ICP Board has met twice since the publication of the last newsletter. In addition to its regular business of activity reports and decision making, the Board began a strategic planning process. At the April meeting there was lively discussion and the Board agreed on draft Mission and Values statements for ICP. These are:
Mission
The mission of the International Council of Psychologists is to promote human rights, dignity, and justice and further international understanding and world peace by facilitating collaborative relationships around the world.
Values
The International Council of Psychologists values diversity in knowledge and methodological approaches, cultural humility, peer relations, mutual understanding, scientific approaches, critical thinking, and inclusion.
Other Board decisions
New Fund. The Board also agreed to establish a fund to assist ICP members with conference attendance or other ICP related activities. The fund will be developed from donations.
End to Lifetime Membership Status. A number of years ago the ICP instituted lifetime status for long-term ICP members and  special lifetime status for a number of ICP members who donated funds. There are a small number of these members still active in the ICP. The Board decided to honor these members by retaining their lifetime status (e.g. no dues required) but sunsetting the membership category into the future.
Acknowledgement of ICP Membership Duration – the Board developed a plan to honor long term ICP membership on the web and is asking each ICP member to update their profile in the membership portal with the year they joined (or approximate year!)
Other Board Activities
The ICP2021 organizing committee (which includes several board members as well as others) has been meeting biweekly to plan the 2021 conference, which will be virtual again. The website has been updated to reflect the latest information on the invited program (plenaries, symposia and award talks) and registration is now open! CE credit will be offered through Alliant/CSPP.
ICP members have proposed two new special interest groups that are now available for joining – these are on Psychology in Latin America – forging collaborations and Processes of decolonizing psychology. You can access these through the ICP website (icpweb.org)/
Our President Josephine Tan has represented ICP in a number of ways: in an upcoming article (co-authored with ICP member Naomi Koerner) submitted to Psynopsis, the Canadian Psychological Association (CPA) newsletter, on ICP2020; and in a panel discussion at the CPA annual meeting about ICP and its role(s) in the Global Psychology Alliance.
Here are some individual notes from board members (for other news of Board members see the "news of members" section for promotions and publications

Elison Santos – [in addition to participating in the ICP2021 planning committee, and helping to plan the two new interest groups, and participating as a member of the steering committee for the Global Network of Psycohlogists for Humamn Rights – GNPHR] I have been Iin contact with Dr. Brian Mishara to promote a webinar for ICP on suicide, and am planning to start interviews on Zoom with the board members about their activities to post in our Youtube Channel.
Other activities
Our Institute Busca Sentido, in Brazil, is organized an International Symposium of Logotherapy online together with the Viktor Frankl Institute from Vienna, that took plalce on the 18th and 19th of June, with the presence of Viktor Frankl's grandson, film-maker, Alex Veseley-Frankl.  I've been working in my private practice seeing patients every day and I've been working in the Office of Mental Health of the University of Sao Paulo seeing students with suicidal thoughts.
Josephine Tan – I am working as a co-editor with Joseph Trimble on a Cultural Leadership book.  This book was originally a collaboration between Jean Lau Chin and Joseph Trimble, but when Jean passed away, I stepped in to work with Joseph to get the book completed in tribute to Jean and continue her legacy.  This book is about global and diverse leadership (Jean's area of research), and will contain data collected under the Global & Diverse Leadership project, featuring authors from different countries.  The Global & Diverse Leadership project was part of the ICP Leadership special interest group led by Jean.  I am also engaged in a number of research projects including comparing Iranian and Western leaders (currently working on data analysis); collaborative research project with the Nunavut Kamatsiaqtut Help Line on suicide among Inuit; and have submitted a chapter: "Suicide Prevention: A Sociocultural Approach to Understanding Suicide among Inuit: Issues and Prevention Strategies" in forthcoming peer-reviewed edited book "Health and Healthcare in Northern Canada" and a manuscript on objective and subjective assessments of cognitive functioning in depression
Merry Bullock – along with co-editors Craig Shealy (USA) and Shagufa (India), submitted the manuscript for a forthcoming APA book: Going Global – Psychology Meets a World of Need – with 9 chapters addressing psychologists international work in policy, advocacy, consultation, assessment, intervention, service, teaching, research  and leadership. Spoke at a US National Committee for Psychology workshop on internationalization and US psychological science journals; co-editor of a special issue on Internationalization in Psychological Science for Trends in Psychology.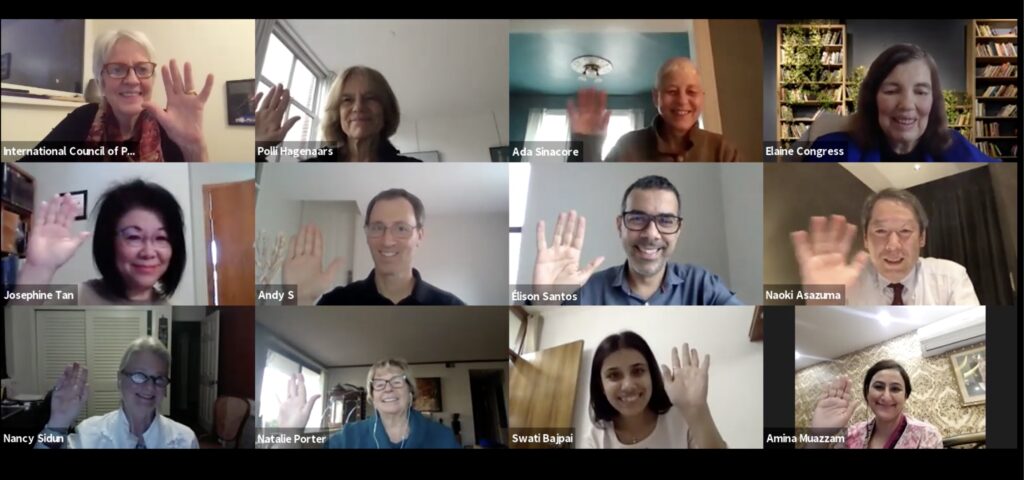 ICP at Dr. Florence Denmark's 90th Birthday Celebration
Josephine C. H.  Tan, President

Several members of the ICP joined many individuals within the international psychology community in a Zoom meeting to celebrate Dr. Florence L. Denmark's 90th birthday which fell on January 28th.  Dr. Denmark is an exceptionally distinguished psychologist of world-wide renown for her work in international psychology, women's studies, ageing, and general psychology.  She has received numerous high honors and awards in recognition of her contributions to psychology.  She was the 88th President of the American Psychological Association, and has served in many leadership roles in a variety of psychological associations.  She is a very strong supporter of the ICP, having been a member for several decades, served as the ICP President in 1990, and is one of distinguished ICP'ers who guided our organization in its development and growth.  She is also one of the namesakes on the ICP Denmark-Gunvald award that celebrates feminist research and service. She served on the ICP Board for many years, and is currently its Parliamentarian as well as the ICP Main Representative to the United Nations.
During the two hour  birthday celebration, colleagues, friends, students, and family members shared memories and traded stories that acknowledged the very substantial contributions that Dr. Denmark has made and continues to make to our discipline.  For those of a younger generation, it was inspiring to hear how Dr. Denmark and women colleagues of her generation struggled and persevered for many years to be considered as equals to male psychologists, and blazed the trail for other women psychologists who came after them.  Her experiences led her to valuing the importance of mentoring and helping students to develop to their best potential.  She actively encourages others to aspire to levels that they might not have otherwise considered, and continually expresses full confidence in their ability to succeed.  A huge number of students – women and men – have benefitted from working with Dr. Denmark and value her mentorship and encouragement as they have established productive careers of their own.  She has been exceptionally generous with her time and sharing of resources with everyone, and continues to do so to this day.
Dr. Denmark remains an exceptional role model and an inspiration to so many of us.  She continues to teach, write, present, and advocate to this day.  The ICP extends its best wishes to Dr. Denmark for continued health and success!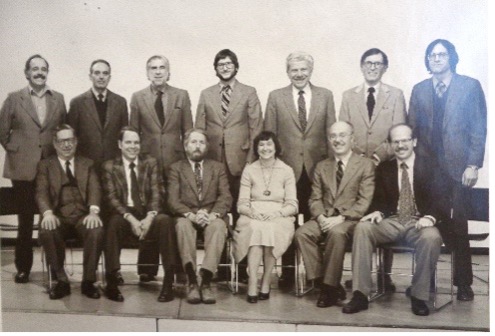 Global webinar saluted Florence Denmark at 90 years
Elaine Congress & Harold Takooshian, IMCES
On January 27, 2021, over 50 revelers from as far as Austria joined to celebrate online the joyous 90th birthday of beloved international psychologist Florence L. Denmark. Florence is known internationally as a teacher, researcher, author, mentor and, of course, a co-founder and past-President of APA Division 52.
For two hours, doyen Florence shared memories with grateful family, friends, colleagues and students–sharing many photos, a toast and virtual birthday cake. Despite 10 months of austere covid lockdowns across many regions, these celebrants were awash in warm wishes and memories with Florence and each other, and heard two poems saluting Florence (by Drs. Elaine Olaoye and Ani Kalayjian).
Florence can be most easily reached by email, at fdenmark@pace.edu . For a link to the joyous 130-minute recording, edited by Anna Stauber, check https://tinyurl.com/y4rqwbhf ,  or contact webinar host Elaine Congress at Congress@fordham.edu .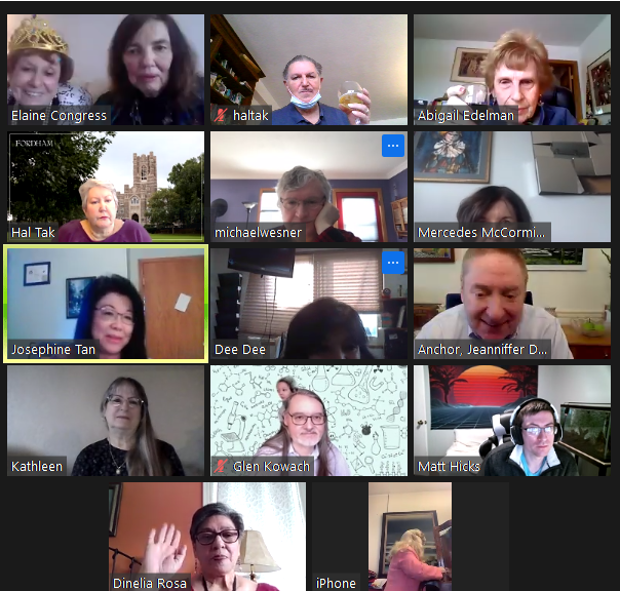 Human Rights Go Local: What Works
Vera Luckgei, ICP UN Representative in Vienna
How can human rights be implemented at the local level?  What are the best strategies to find out human rights are granted at the local level?  How can policymakers and academics work together on this complex and important issue?
These questions were discussed in the first edition of "Human Rights Go Local – What Works: Field-proven Research Methods on Human Rights", which took place on February 1-9, 2021 and is planned to take place regularly from now on.
The Academy and subsequent conference were held at the International Centre for the Promotion of Human Rights at the Local and Regional Levels under the auspices of UNESCO at the University of Graz. Due to the current situation a visit to the first European human rights city Graz, Austria, which celebrates its twentieth anniversary this year, was possible only digitally. The event was co-organized by the UNESCO Chair in Human Rights and Human Security in Graz, Austria, the United Nations Educational, Scientific and Cultural Organization (UNESCO), the United Nations Office of the High Commissioner for Human Rights (OHCHR) and the European Union Agency for Fundamental Rights (FRA).
During the academy, human rights experts and practitioners, academics, policy makers, public administrators, representatives of the civil society, international and regional organizations came together for an interdisciplinary knowledge exchange. Together they created the outcome document "Building Bridges between Local Governments and the Scientific Community to Promote Human Rights". Fourteen recommendations for local governments worldwide to strengthen human rights in their communities were written down. Local authorities are requested to base their key policies on research on human rights at their local level and to promote field proven human rights research methods in their environment. It is emphasized to reevaluated existing data with a focus on marginalized groups to leave no one behind.
The closing conference on February 9 with more than 300 participants were introduced by greetings from Austrian politicians and voices around the world. Afterwards Morten Kjærum head of the Raoul Wallenberg Institute of Human Rights and Humanitarian Law presented the newly created document to the public and moderated the following high-level panel discussion. Under the slogan "Building Bridges between Local Governments and Science to Promote Human Rights" Michael O'Flaherty, FRA Director, Nada Al-Nashif, OHCHR Deputy, Gabriela Ramos, UNSECO Assistant Director-General for Social and Human Sciences, Siegfried Nagl, Mayor of Graz and Gerd Oberleitner, UNESCO Chair for Human Rights and Human Security.
There was a broad discussion, based on very concrete local political experiences gained in the Human Rights City Graz over the last 20 years, about possibilities of cooperation between politics and science, addressing current human rights demands. It was underlined that there is a massive data gap concerning human right violations on local levels in many areas around the world. To generate missing data cooperation's between local authorities, scientists and affected groups are needed. It was pointed out that it is very important to conduct research together with affected communities not only about them in order to create valuable knowledge that reveals structures behind local human rights violations.
The newly created document might be of relevance to all ICP members who are engaged in research on human rights violations and in finding solutions to reduce these. It can be used to foster co-operation between researchers in the field of psychology and local authorities and therefore support the process of putting research into action.
Global webinar reviewed the ICP video on NGOs at the UN
Harold Takooshian, IMCES, Florence L. Denmark, ICP, & Elaine Congress, ICP
Back in 1981, on the 40th anniversary of the founding of the International Council of Psychologists, ICP registered as a non-governmental organization (NGO) with the United Nations. ICP was only the second psychology NGO at the UN (after the Association for Women in Psychology in 1976).  For 40 years now, ICP continues be an active voice of psychology at the UN.
In 2000, a team headed by ICP past-President Selma Sapir produced a unique, 35-minute video on the role of "NGOs at the UN."  Here, Sapir interviewed a dozen legendary NGO founders who worked with the original League of Nations, the new UN, and activist Eleanor Roosevelt in the 1940s. Each of these pioneers limned the vital roles and importance of NGOs at the UN. As Esther Hymer noted: "The United Nations would not be here today if it were not for the initial support of the NGOs . . . who garnered public support for the UN and its diplomats."
"Since the United Nations was formed in 1945, what is the history of NGOs at the United Nations?"
On January 28, 2021, 48 psychologist and students from Los Angeles to Geneva convened for a three-part global webinar to review this question.
First,  a webinar screened this "forgotten" ICP video on "NGOs at the United Nations."
Second, six diverse experts served as discussants for 5 minutes each, offering their views on the video, and the current status of NGOs.  (a) CUNY Professor Emeritus Walter Reichman spoke about the work of the International Association of Applied Psychology (IAPP), which focuses on issues like global mental health and "decent work." (b) Psychotherapist Allyn Enderlyn of Webster University-Geneva reviewed her current work with the United Nations in Geneva. (c) Ambassador Hamid Al-Bayati frankly voiced the reservations that many diplomats share about working with NGOs, and why they should cooperate more with NGOs, through student internships and other collaborations. (d) Tara Pir, a past-President of ICP, is the founding Director of the Institute for Multicultural Counseling and Education Services (IMCES) in Los Angles, which is a leader in global collaborations and evidence-based cross-cultural services. (e) Ani Kalayjian is a past Treasurer of ICP, and the founding Director of ATOP www.MeaningfulWorld.com, and introduced several of her ATOP fellows and interns, who each described their own personal research projects with the UN.  (f) Leslie Popoff, President of the Psychology Coalition at the UN (PCUN), described on-going PCUN projects, including the 14th annual Psychology Day at the UN this April 15.
Third, vigorous conversation flowed for 30 minutes, as diverse participants from the USA and Europe met for the first time, and exchanged experiences about their NGOs. This webinar survived an unexpected two-minute "zoom-bombing," with blaring music that would make even heavy-metal fans cringe.  A 90-minute recording of this webinar appears at: https://tinyurl.com/y4bm7quw
This series was the first of a  group of global webinars held in spring 2021, cosponsored by several organizations: PCUN, IMCES, ATOP, Fordham Psi Chi, Manhattan Psychological Association (MPA), and six APA divisions (10, 34, 42, 46, 48, 56). This series was made possible by a mini-grant from the American Psychological Association's CODAPAR, to increase psychologists' involvement in the UN and global issues.
The next webinar was  in February and was  being organized by John Fraser of APA on the topic of "food insecurity." Other webinars were held in on March and April.  For details on future webinars, or to join this free listserv, contact Professor Harold Takooshian at takoosh@aol.com  .
Announcement of a New ICP Special Interest Group:
Decolonising Psychology & Psychology Decolonising Society
Polli Hagenaars, Naomi Koerner & Élison Santos
We are pleased to tell readers about a new Special Interest Group dedicated to decolonising psychology and examining ways in which a more globally-informed psychology can be a catalyst for decolonising minds and societies. We invite ICP Members to join a safe forum to engage in an open discourse. Members need not be "experts" in the area—any ICP member or student member interested in developing their awareness, knowledge and understanding, and in transforming knowledge into action, is welcome.
Readers may have noticed that we have used the term "decolonising" rather than "decolonisation of." We consider decolonising a process that actively involves exploring our own awareness and understanding of the influences of colonisation not only on psychology as a discipline and profession, but also on our minds, behaviour and relationships; on indigenous populations; on various institutions and on the environment. It is about taking responsibility and deconstructing and repairing what has gone wrong by colonisation. We have chosen to use the term "decolonising" rather than "decolonisation of" to recognize this process.
Decolonising puts human rights, equity and justice at the core. We see it as a practice that begins with decolonising our ways of thinking and our attitudes. Referencing the seminal ideas of Frantz Fanon (1925-1961), Maldonado-Torres (2017) wrote, "Attitude is key in the decolonial turn and the decoloniality of not only psychology but also knowledge, being, and power more generally."
Through this interest group on decolonising, we will examine ways in which (unequal) socio-political power structures, now and in the past, have shaped psychology as a discipline and as a profession. We will critically analyse the ways in which theories, knowledge and practices developed in colonial contexts, are re-produced and hinder a more globally-informed exchange among psychologists across international lines. We will explore the continued effects of colonial power structures in the work of psychologists as educators, practitioners, researchers, mentors, administrators, and human beings.
We will consider how to move from knowledge about colonial influences on psychology as a discipline, to ethical decolonial practices and reparative actions, actions psychologists can take to combat and dismantle (post-) colonial influences (structural, institutional, epistemological) inside and outside their discipline and profession, to ensure that the principle of the equal inherent Dignity of each person is upheld (Universal Declaration of Human Rights, 1948).
We plan to send you a formal invitation along with a survey, to learn more about your perspectives and experiences with regard to colonialism and decolonising—we are interested in multiple global perspectives. The upcoming ICP virtual conference (October 22-24, 2021) will include programming on the topic of 'Decolonising' as well as a Networking Café wherein attendees can explore the topic further through discussion and exchange.
Feel free to contact us via email. We also have an online discussion forum that ICP members can now join. We invite questions, comments and expressions of interest.
Polli Hagenaars (Netherlands, ICP Director-at-Large): polli.hagenaars@gmail.com
Naomi Koerner (Canada, ICP Member): naomi.koerner@ryerson.ca
Élison Santos (Brazil, ICP Director-at-Large): elisonsan@gmail.com
Reference:
Maldonado-Torres, N. (2017). Frantz Fanon and the decolonial turn in psychology: From modern/colonial methods to the decolonial attitude. South African Journal of Psychology, 47, 432 – 441.
---
Congratulations to all of the student award winners from ICP2020!  It so exciting to see the work that students are doing within the area of psychology. Their work is both innovative and inspirational.   Three student award winners from ICP2020 submitted a summary of their work for the Newsletter.  Daniel Balva's work highlights the impact of COVID-19 on people with disabilities.  It raises important areas of concern such as accessibility, activities of daily living, quality of life, and systems of care.  Next, Yunung Lee presents the analysis of a scoping review of the history of psychology in Taiwan.  In particular, she discusses the marginalization of Indigenous peoples of Taiwan, foreign spouses, and people living in poverty.  Finally,  Shenae Osborn's work addresses domestic violence and the "unseen abuses" and  "invisible scars" endured by women in violent interpersonal relationships.
Each one of these presentations provide thoughtful and important contributions to work in the areas of human rights and social justice.
---
Daniel BALVA
Summary of Work:
Persons with disabilities form the largest minority in the world, yet continue to remain marginalized on various levels and in various sectors across the globe. As history has shown, during worldwide disasters and pandemics, the disability community has frequently been overlooked and underserved, and we have especially observed this during the current COVID-19 pandemic. In collaboration with Jose "Joey" Tapia-Fuselier, our poster, "The Response to COVID-19: The Impact on Disability Communities Across the World" highlighted the impact of the pandemic on disability communities around the world and focused on strategies psychologists can utilize to address community needs and foster culturally responsive care.
Our work stressed the impact of COVID-19 on concerns related to accessibility, activities of daily living, quality of life, and systems of care. While such areas continue to be affected by the pandemic, it has been our hope to raise more awareness about important considerations and courses of action for psychologists to foster, contribute to, and advocate for the mental and physical care as well as general wellbeing of our clients.
While much of the world has seen advances in technology and forms of service provision across technological platforms, it is essential that we also recognize continued disparities that hinder accessibility and digital literacy. This is especially important for psychologists who provide services including telehealth or telemedicine. For this reason, our work has also focused on providing information about such disparities in addition to the need for psychologists to advocate for equitable access to healthcare services and the removal of health system-created barriers to accessibility.
Biography:
Daniel Balva (he/him/his) is a 3rd year Counseling Psychology doctoral candidate at the University of Georgia. He has a strong passion for global mental health, multiculturalism and international social justice concerns, juvenile justice, and disability awareness— all of which form the basis of his research interests, leadership involvement in various organizations, and international collaborations and engagement.
Shenae Osborn
"The Unseen Abuses"
The Unseen Abuses was inspired by personal circumstances for which I later realized is a reality for too many women across the globe. The abuses that do not leave visible scars, bruises, or broken bones but do leave lasting mental scars is something that needs heightened awareness and support. Many women stay in abusive relationships because they are threatened by their perpetrator, belittled to feel they are nothing without them. The fear and anxiety that is caused by a perpetrator keeps a victim in the relationship, imprisoned. At a certain point of the relationship, the victim cannot see themselves without their perpetrator because they have become so dependent on them. Most times the perpetrator is a narcissist, so others see him as charming. This creates further confusion for the victim because their experiences, their abuse, their pain, and scars cannot be seen so telling another the truth is even more difficult. Victims are often not believed or simply told they are misunderstanding the situation. When victims are believed, the ramifications for unseen abuses are significantly less, almost laughable so the victim prevents further humiliation.
As a mother of three boys, I see that social media is becoming the primary form of communication. Social media is filled with judgment, harassment, and false information which we are all vulnerable to. Too many people get away with harming others, verbally, mentally and emotionally which inevitably causes psychological distress. Awareness and support for women and girls across the globe is a necessity. All abuses matter and should be taken seriously whether they can be seen or not. I hope to inspire others through my advocacy efforts. I was inspired to create a website called Dare Me to Speak at https://linktr.ee/daremetospeak where anyone can find more information on abuses, sign petitions to make a change and feel support. Just because it can't be seen, doesn't mean it does not exist.
Biography
Shenae Osborn is a United Nation intern at Fordham University. Her personal experiences have taken her from living in New York City shelters to graduating with a master from Fordham University. Shenae aspires to focus on advocacy for violence against women and children across the globe and create international policy changes especially when it comes to the unseen abuses.
Yuning Lee
Summary of the work: The Contemporary Psychological History of Social Minorities in Taiwan. 
Applying a scoping review method, Yunung reviewed and analyzed a total of sixty-four research papers regarding the psychological history of social minorities in Taiwan. Among the small body of literature, she identified three groups of marginalized people in Taiwan's history of psychology; Indigenous peoples, foreign spouses, and those living in poverty. Within the group of Indigenous Peoples, she identified four salient themes, a) mental well-being of seniors and youth b) parenting stressors in non-traditional families, c) trauma recovery via Indigenous-healing, and d) identity struggles
For the group of foreign spouses, she identified two main themes, a) foreign spouses' cross-cultural adaptation, and b) the adjustment and well-being of children of foreign spouses.  Theme one is comprised of , a) bi-cultural conflicts and cross-cultural adjustments, b) marital and familial conflicts, as well as domestic violence, c) attitudes toward sex, d) parenting challenges and e) mental health interventions
Finally, for the group of people living in poverty, the predominant these was struggles faced by women  This these had  two subthemes, a) struggles with anti-contraception  beliefs held by men  and b) participating in sex-work as a survival strategy, paid/unpaid labor. A second theme was about women as laborers, with 3 subthemes,  a)  dual roles as laborers and mothers/wives, b) struggle for dignity, and c) emotional health.  
Concomitant and divergent themes across the three groups were explored. Common themes were the impact of stigma, lack of resources, conflict between majority and minority cultures, and identity struggles.  On the other hand, there were unique theme within each group, an asset for healing from trauma for Indigenous peoples; cross-cultural struggles among foreign spouses, and underemployment for people living in poverty.
In general, research on social minorities in Taiwan is scarce. Indigenous peoples and foreign spouses has received more scholarly attention than people who live in poverty. Many of the articles found did not demonstrate academic rigor and were published in minor journals which contributes to  the invisibility and marginalization of these groups. Lack of resources, social stigma, and identity struggles intersect which in turn reflects and reinforces the tensions and conflicts with mainstream Taiwanese culture.
Biography
Yunung Lee is a registered counseling psychologist in Taiwan. She works mainly at the community psychiatry clinics and counseling centers with people from all walks of life. Her specialties include cross-culture adaptation, cross-generational conflicts and reconciliation, weight and eating-related issues, and identity issues. She is currently pursuing her Ph.D. in counseling psychology at McGill University in Canada.
The Mixed Method for Pattern Emergence (MMPE) in Future Psychology
Robert F. Morgan, Albuquerque, New Mexico
Nonconforming "Bad Data"
It was 1958. I was in my first year as an applied physics major in an engineering college. We had a research lab that allowed us to individually replicate basic experiments. Once done, each of us would plot the data points to see how close they conformed to the expected curve, one historically described by a mathematical model.
Any data point not falling on the expected curve we were to circle and write "bad data" above it. The assumption was that these outliers were artefacts, simply errors in our procedure. The fewer the outliers, the higher the grade. That such nonconforming data might tell us something new of value was not being taught.
A few years later, as a psychology major in a university, I learned from some very progressive young faculty that discounting unexpected data points would be considered bad faith. The curve followed the actual outcomes and that was that.                 I enjoyed the freedom of this honesty. Much later the focus on complete honesty became this key aspect of Chaos Theory: the rigorous inclusion of all the exact research results, anomalous appearing or not, fitting the research theory or not, to each and every decimal point (Butz 1997, Butz & Schwinn 2004).
In my decades with international psychologists, I have been impressed by how often the most pioneering and distinguished leaders in their country readily migrate to the international associations. While the numbers are not always overwhelming, the company always is. Here the future of our field incubates. Those open to learning from unexpected research results lead the way.
A Mixed Method for Pattern Emergence (MMPE) and a Quantum future
In a special pair of reports on quantitative and qualitative research standards in the January 2018 American Psychologist, Levitt et al contributed a major advance to APA style and its future companion Publication Manual. In a long awaited inclusion of qualitative methods, it added recognition for valid blending of quantitative and qualitative mixed methods, capturing a longstanding reality.
As comprehensive and helpful as this overdue step was, the article's very brief "recommendations and future considerations" section might have upgraded to contemporary computer age technology options, even including actual quantum computing (Bar-Ilan University, 2018; Shaked et al, 2018).
Having supervised more than 125 psychology doctoral research dissertations for nearly five decades, it was easily noted that in the evolution of research methodology, recognition always trailed practice.
In the 1970s, quantitative method was the respected approach although qualitative methodology was already successfully being used.
In 1972, a highly respected and very progressive community psychologist was sent to our psychology doctoral program in California to advise us on our application for APA accreditation. George haphazardly (he said randomly) chose ten doctoral dissertations from our library, taking them to a private room for review.
In only a very few minutes he emerged, concluding that we needed to radically improve our dissertation research.
He acknowledged that they seemed creative, comprehensive, and tackled important topics. But, he stressed, only two of the ten used analysis of variance (AOV). At that time, he stated, more than 80% of articles published in APA journals used AOV rather than 'lesser' quantitative approaches.
Would not a better approach be to match the analysis methods to the research question being asked? No, he smiled benignly, kindly lecturing us on the culture of scientific acceptance and its expectation of conformity. He particularly urged future avoidance of any qualitative approaches.
Our professional school president immediately revised a required course on quantitative methods to emphasize AOV.
In subsequent years, in both university departments of psychology and in free standing professional schools of psychology, the divide between quantitative and qualitative analysis, between the numbers people and the word-pattern people, continued.
Professional school graduate students often were allergic to those Arabic symbols called numbers. Although it was useful to occasionally point to the utility of numbers in things like their paycheck. (An instructor tried teaching statistics with hypnosis to avoid this trauma. It didn't work, but she was very popular for trying.)
Psychology department faculty, on the other hand, avoided qualitative approaches at all costs. One Canadian university department blocked most clinical graduate students from degree completion by requiring the passing of a quantitative statistics class that few PhDs would survive.
Yet later decades saw mixed models using both approaches increasingly appear in both professional school and department dissertations. In this 21st century, they have become common and, more to the point, effectively address the research question being asked.
That the January 2018 American Psychologist printed two separate reports on modern standards, one quantitative and one qualitative, demonstrates that the old divide perpetuates. Still, in including mixed models in the qualitative standards, academic acknowledgment of a longstanding research reality took a major step forward.
How about another step then for "future considerations", one consistent with today's reality and potential? Modern quantum age computer programs could now sift through voluminous mountains of mixed method data on a global scale. For example, let's call it a "Mixed Method for Pattern Emergence" (MMPE) approach.
This could selectively investigate unexpected data patterns with an integrated analysis, a method of following extraneous outcomes to discover the most valid useful ones.
The Five Key Elements of MMPE                                                                                                                                
Efficiency Percentages (Morgan 1968). What percentage of the sample participants are accurately described by a statistically significant outcome? A goal of approaching 100% accuracy melts away emergent patterns of statistical significance that still fail to describe many or most sample participants.
Multiple Causality. Beginning with the breadth of individual differences, computerized analysis will immediately develop patterns for every substantially important bimodal or multimodal context variable (age, time, region, gender, health, economic, antecedent conditions, etc.) proving a more complex but effectively valid picture.  There is rarely only one truly important finding. Let's get them all.
Replication. Two or more independent but comparable samples of extensive data focused on the same variable. More replications means more predictive stability.  A classic approach rarely to be found in time-limited cross-sectional doctoral and grant-funded research.
A Central Portal for International Data. The plan for a national central patient portal has foundered in the United States although advocates remain strong (Segal 2016). Input on a global scale would be more powerful, possibly more likely, yielding mountains of key information in a variety of essential categories.   With MMPE, epidemiologists quickly locate causes, cures, and prevention factors for disease. Psychologists will have no shortage of essential questions to ask. And be answered. Let's say trauma (Morgan 2012) or even Cancer. These data would flow from an international expansion of central portal practitioner qualitative or mixed case data, failures as well as successes.
Enhanced Analytic Speed. All computers are fundamentally quantitative. Sifting through numerical context, they can seek and find usefully valid qualitative patterned solutions. And fast. We already have modern computer programs available for a more rapid pattern analysis of quantitative and mixed model data (Woolf, N.H. & Silver, C., 2018).
Now, moving into actual quantum computing, we can foresee near instant pattern emergence solutions from huge international samples that can be applied to our most pressing problems. The very nature of quantum computers stemmed from investigating those anomalous data points in quantum research. That it works at all, much less so impressively, demonstrates a future available by following the path of nonconforming "bad data". This five-element international MMPE approach is an opportunity to substantially upgrade our consideration of the "recommendations and future considerations" of these research procedures or standards.
Back to that Engineering College
In all fairness, one of my professors was actually quite meticulous, at least in his evaluation of us students. He felt the traditional grading system was insufficient to fully express exact levels of student inadequacy.                                                                                
So he remedied this by expanding the F (failure) part of the ABCDF scale to 1F 2F 3F 4F or 5F. Assignments were graded accordingly. In his system, the 1F would then be the median grade.
One day he was demonstrating how to take a figure on paper and draw it on the blackboard with three dimensions such that it could be readily built. He challenged me to leave class and bring him a picture of anything so he could demonstrate his ability, knowing that we would then of course each accumulate more levels of F in trying to follow his example.
But I had already been reading about psychology, my next major, and found just the picture to hand him for his demonstration. It was an Escher-style perceptual illusion, not one to be built in our three dimensional world. Nor, despite many tries, was he able to draw it for construction that day.
Despite his extensive negative grading system, of which I certainly had consistently achieved data points in the lower half, he surprised me at the end of the semester by giving me a passing grade. When I asked him why, he simply said he didn't want to see me repeating his class. Or, for that matter, ever see me again.
There were in fact some dedicated and excellent faculty there. Even the Swiss economics professor whose saliva clustered our class entirely in the back rows.
But I had chosen physics at this college so as to explore with experts as to what was known about the secrets of the universe. Instead we were charged with learning about the secrets of plumbing and refrigerator repair. Their motto of was: "The workman that needeth not to be ashamed".  To avoid that shame I planned another path.            
Combing through descriptions of other majors, I realized that my main career goal was actualizing the best promise found in science fiction. It appeared as though the psychology career was closer to this.
Sixty years later, looking back, that certainly was be the case. Even moreso in this 21st century.
So for my third year of college, I transferred to a large university to join the ranks of psychology students, a field I fit much better immediately. A move I never regretted. Where all honest research results were understood to be worth understanding, expected or not. Especially if not anticipated.
Where to from here?
We can now search for solutions to the most pressing challenges to our human family, including those causes, cures, and prevention of disease.
Is this science fiction? Not so. Not anymore. Are we ready?
References
Bar-Ilan University (2018) "Forging a quantum leap in quantum communication: Scientists introduce a technique that speeds up quantum information processing nearly a million times." Science Daily, 9 February<www.sciencedaily.com/releases/2018/02/180209112342.htm>.
Bütz, M.R.  (1997). Chaos and complexity:  Implications for psychological theory and practice. Washington, D.C.: Taylor & Francis.
Bütz, M.R. and Schwinn, R. (2004) "Transforming Crisis Theory in Behavioral Healthcare: Moving from stasis to developmental adaptation."  Paper presented to the Society for Chaos Theory in Psychology and the Life Sciences, Marquette University, July 16, 2004.
Levitt, H. Frost, D.M.M., Bamberg, M., Creswell, J. W., Frost, D. M., Josselson, R., & Suarez—Orozco, C. (2018). American Psychologist, 73 (1), 26-46.
Morgan, R.F. (1968). Need for a greater use of efficiency percentages to supplement reports of statistical significance. Perceptual & Motor Skills, 1968, 27, 338.
Morgan (2012). Trauma Psychology in Context: International Vignettes and Applications from a Lifespan Clinical-Community Psychology Perspective. Santa Cruz, CA: Morgan Foundation.
Segal, R. (2016). "The Case for a Central Patient Portal for Medical Records". Huffington Post, 31 August.    https://www.huffingtonpost.com/entry/the-case-for-a-central-patient-portal- for-medical- records_us_57c5e17de4b07addc40f87ba
Shaked, Y., Michael, Y., Vered, R.Z., Bello, L., Rosenbluh, M., & Pe'er, A. (2018). Lifting the bandwidth limit of optical homodyne measurement with broadband parametric amplification. Nature Communications, 9 (1).
Woolf, N.H. & Silver, C. (2018) Qualitative Analysis Using MAXQDA. New York: Routledge.
Member News
Member Publications:
Kelly O'Donnell: Global Mental Health: Collaborating for Sustainable Development and Wellbeing (April 2021). O'Donnell, K., Eaton, J., & Lewis O'Donnell, M. A revised version of this article will appear in the forthcoming volume (in press): E.P. Congress, H. Takooshian, & S. Osborn (Eds.), Behavioral Science and Health in the Global Arena. Information Age Publishing
Abstract: "In this article we highlight several markers that collectively reflect crucial developments and directions for mental health's global impact. These comprise events, reports, manuals, campaigns, consortia, etc., and this body of markers represent the culmination of a series of articles over the past 10 years to orient colleagues in mental health and across sectors to the domain of Global Mental Health (GMH) (GMH-Map Project). We organize the markers into 10 areas of  engagement for GMH Collaboration and conclude with perspectives on working together into the future."
Erinn Cameron:
Cameron, E., Hemingway, S., Ray, J. Cunningham F.J., & Jacquin, K.M. (2021). COVID-19 and women: Key components of SDG-5 and the estimated prevalence of modern slavery. International Perspectives in Psychology, 1-9. https://doi.org/10.1027/2157-3891/a000019
Cameron, E., Hemingway, S., Cunningham F.J., & Jacquin, K.M. (2021) Global crises: Gendered vulnerabilities of structural inequality, environmental performance, and modern slavery.
Human Arenas, 1-22.  https://doi.org/10.1007/s42087-020-00154-2
Cameron, E. C., Hemingway, S. L., Tschida, S., Heer, R. K., & Jacquin, K. M. (2021). Gender inequality in national laws predicts the prevalence of modern slavery victims across countries. Journal of Human Trafficking, 1-18.https://doi.org/10.1080/23322705.2021.1938896 
Josephine Tan
Sachdeva, I., Aithal, S., Yu, W., Toor, P., & Tan, J. (2021). The disparities faced by the LGBTQ+ community in times of COVID-19. Psychiatry research, 297, 113725. https://doi.org/10.1016/j.psychres.2021.113725 .
Awards and Promotions
Andrew Simon, PhD, PsyD has been promoted to Associate Professor at Seton Hall University.
Amina Muazzam, PhD  was promoted to tenured professor at Herr University.
ICP would like to wish you both our heartfelt Congratulations!!
Please send your member news here for inclusion in the next newsletter!!!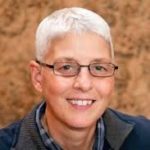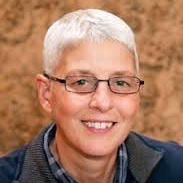 Dear Colleagues,
I hope this message find you well.  It is hard to imagine that we continue to live through a pandemic, while simultaneously we have been able to continue to move forward with our work in positive and productive ways.
You might notice that this newsletter has a slightly different format.  Instead of individual governance report, we have one overarching report.  I have included three student award winners in the student section in order to highlight students members successes and the quality of their work.
I also want to take a moment to recognize Florence Denmark and congratulate her on her birthday, and her illustrious career.  Dr. Denmark – Felicitations are on all of your amazing achievements. You are truly is an inspiration to us all.
With the assistance of Merry Bullock, we will continue to develop the Newsletter to meet the needs of the ICP membership.  In order to make sure that the Newsletter comes out in a more timely fashion,  the next submission deadline will be September 30 for the Fall Newsletter. Submissions should be 500 words or less. Thank You
In the meantime, I hope you are well, have a wonderful summer and  I look forward to seeing you at the virtual conference  October, 2021
All the best,
Ada