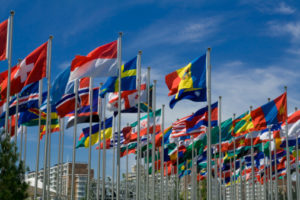 See UN Events
UN-Web TV – watch UN meetings as they happen here
Consultative Status with ECOSOC and DPI
---
ICP has held consultative status at the United Nations since 1981. Our representation serves on a number of NGO committees and works with the Psychology Coalition at the UN (PCUN) for policy development and advocacy. ICP also is one of the core associations working to develop the annual Psychology Day at the UN.
Representation at New York Headquarters
MAIN Representation: Dr. Florence Denmark
ECOSOC Representatives:
Main Representative: Dr. Elaine Olaoye
Representatives:
Dr. Elizabeth Kloner
Dr. Leslie Popoff
Dr. Eva Sandis
Dr. Janet SIgal
INTERNS
Vasiliki Kalaitzidis
Galina Tyukhtina
Dr. Roswith Roth
Dr. Peter Crowley
Statement on Recovery from COVID-19 – Building Back Better (June, 2020)
NGOs call on the 193 UN Member States to renew their commitment to the UN and to turn this international crisis into an opportunity, using it as a starting point to rebuild economies that are inclusive, and based on sustainable production and consumption. See statement here:icp-covid-unstatement2020
Statement Calling for UN Member States to focus on Women and Climate in Agenda 2030
ICP joined other NGOs in issuing a statement from the Committee on the Status of Women, Vienna. Stating that "the time is now for human rights, dignity, peace and justice for women and girls, men and boys, and protection of all life on our shared planet," the statement called on UN Member States to:

Finally and fully implement the Beijing Platform for Action; the Women, Peace and Security Agenda; and CEDAW;
Support women's initiatives for gender equality and climate justice;
Ensure meaningful participation of women in conflict prevention and peacebuilding;
Protect women and children displaced by climate and conflict, as well as women human rights and environment defenders;
Commit to balanced participation of women and men in the implementation of Agenda 2030;
Reallocate world military spending to meet human needs and achieve major progress on key Sustainable Development Goals.The complete statement is available here: https://icpweb.org/wp-content/uploads/2020/06/CSW64StatementVienna2020.pdf
Statement for UN 75th Anniversary
ICP joined other NGOs in issuing the CoNGO Declaration on the Occasion of the 75th Anniversary of the United Nations. The statement calls for strengthening the UN and calling more heavily on civil society as part of the UN process. It states "As the United Nations celebrates its first 75 years, we have an opportunity to revisit the past, define the present, and shape a new future. Humanity cannot wait. Peace, justice and development depend on people- centred approaches to transforming our economy, society and environment. We must increase momentum to ensure that no one is left behind."The statement is available in English, French and Spanish here: http://ngocongo.org/wp-content/uploads/2019/11/CoNGO-Declaration-UN75-English.pdf. CoNGO is the Council of NGOs at the United Nations.
ICP UN Interns presentation to the NGO Committee on the Family
Partners / Collaborations